Facing Pages is a magazine event that took place in March 2014 in Arnhem, Netherlands. Half part exhibition, half part symposium, it is a great way to get in touch with magazine lover from all around the world, discover new (mostly independent) magazines (sold on site by legendary bookstore Athenaeum) and see people "from the scene" talk about their experiences of making magazines. We talked to founder William van Giessen and put together some pictures of the event.
VADP: First, congratulations to a very nice event. How did it all turn out in your view – lecture-wise and visitor-wise? Are you happy with Facing Pages 2014?
William van Giessen: This year was really amazing. Everything went very smooth behind the screen. We started very relaxed and stayed that way during the symposium days. Lecture-wise it became even better than we could wish for. All speakers were fantastic and the rhythm, the topics and the mood in the room was fantastic! Every visitor we spoke was superenthusiastic and promised to come back in 2016. All and all, probably the best Facing Pages so far. So yes, we are more than happy!
What was your highlight of the two days?
This is a tricky one! If I say one name I want to mention every speaker. We had some suprise-acts in between (from Martijn Brugman, Dennis Gaens en BiOP) which turned out great. But the main line-up was super and I can't tell which one was the best. But to give a highlight; afterwards some people came up to me and said they are finally starting their own magazine. This is why we do it. That people get excited, motivated and start to work on their idea. And often with some fellow visitors they met. Another highlight are the visitors. Almost every European country was represented. Even some people outside the EU visited; from India, Canada and Japan! How cool is that!?
That's impressive! Your event was aligned under the tags "activism" and "escapism" – do these characterise the indie-zine landscape we have?
Since the 2010 edition of Facing Pages we felt that these themes are very current in today's independent magazine landscape. There are more things going on, but the contrast between the two themes inspired us.
What's in store for the future? More lectures, more exhibition space?
Pfew, we don't know yet. I think this is what we can achieve with the three of us in the time we have. It's not our main job – that's still making print publications – and we can't make money with it they way we do it now. Making it profitable also takes a lot of spare time, so who knows what we think of next time? No ideas yet. Right now, we just want to relax a bit and enjoy the exhibition while it still lasts.
Thanks, William and good luck for the future!
Sven Job talked to William van Giessen, founder and curator of Facing Pages 2014.
The exhibition of independent magazines is open till april 7th, admission is free!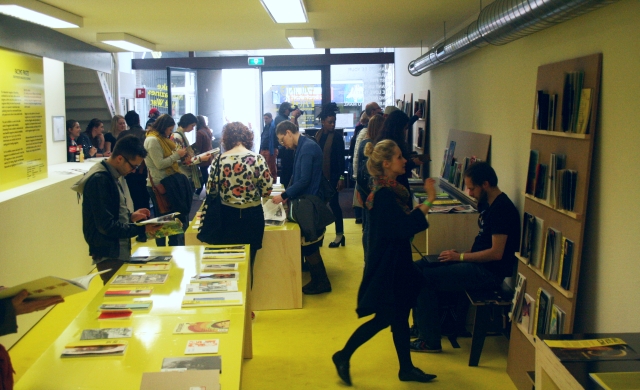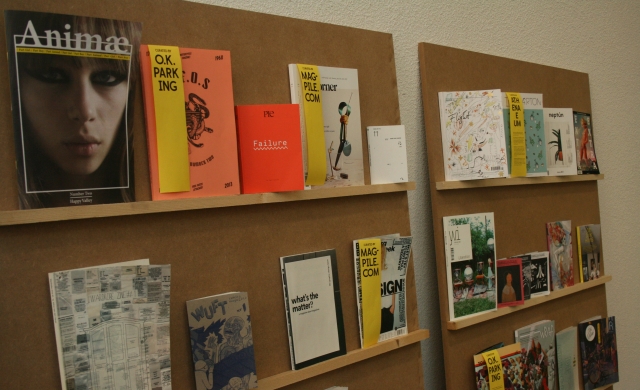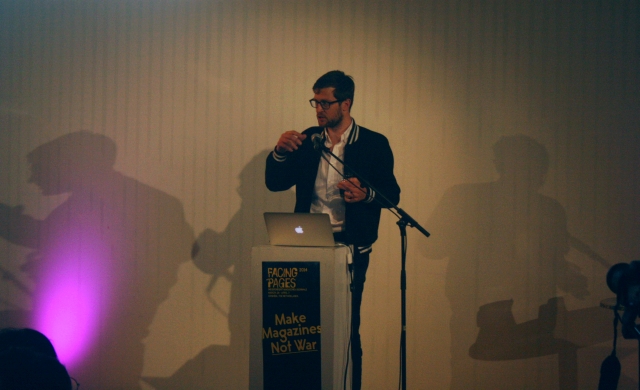 Toine Donk, founder of Dutch literature magazine Das Magazin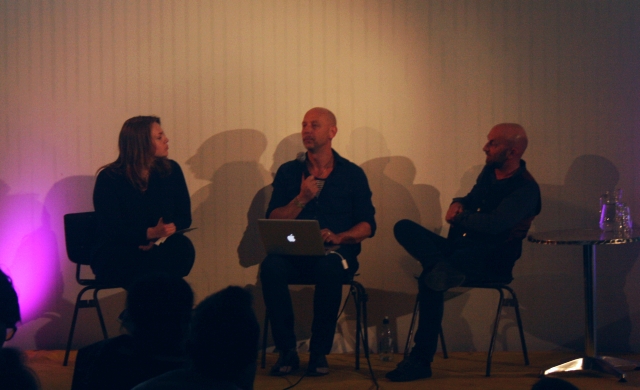 Frank Jurgen Wijlens and Koen Denolf talking about their experience in making Bruce Magazine
Jonathan Baron and Matthew Holroyd of Baron Magazine