Newspaper Club is a service that lets you print your very own newspaper slash magazine – no matter whether it's just one copy or thousands of it. We talked to Anne Ward and her team about this crazy little idea called print.
Nowadays, more and more journalistic and editorial matters are played out digitally, circumventing the use of paper completely. What's behind the idea of Newspaper Club?
We love digital, but we also believe that print's not dead. It's a physical, tactile medium that is great for sharing ideas. Newspapers have a tremendous history and they're a huge part of popular culture – we wanted to open the industry up for non-traditional publishers to see how newspapers adapt to 21st century life.
We've printed for a wide range of customers, including big tech companies like Facebook, Dropbox and Mailchimp – so it shows that digital and print can work well together.
Can you explain in just a few words how anyone can make his own newspaper and how do you come into play?
We offer free design software, clear guidance and friendly support to help everyone get their ideas into print. We put prices and as much information on our website as we can, so we're open about how things work. Our business is totally online, so you can order 24/7 and we'll ship to most countries in the world.
From which countries are most of your users? Are there a lot German users?
Our users are roughly 60% UK-based and 40% overseas. The second biggest market is the US, with Germany behind that.
From circulation numbers to size and layouts: Is independent publishing really for everyone?
We've noticed that people tend to choose different formats for different uses. Tabloids are a good all-rounder, minis are great for magazines and events, and broadsheets are handy for more serious publications, when you want a bigger page to spread out.
Digital printing is useful for small runs, so it's popular with design students and individuals making newspapers for celebrations like weddings or birthdays. Traditional printing is popular with larger organisations – we print a lot of catalogues for design companies and retailers, as well as programmes for festivals and exhibitions.
I looked on your website and see that many publications can't be bought from your page directly. Why is that?
This could be for a few reasons:
a. You can share all sizes in The Newsagent, but only digital tabloids can be sold,
b. we can only sell them in the UK, so publishers with an international audience may not put their newspapers up for sale and
c. many newspapers are created to be given away rather than sold.
Is there a newspaper you're especially proud of? On the other hand – are there production orders you had to deny?
We're always pleased to help customers get regular publications off the ground. We love The Bedford Clanger – a local newspaper for Bedford in the UK. They've been printing with us since our early days and it's been great to see the newspaper and its team grow.
It's very rare for us to turn down a job – we've only done this once that I'm aware of, because the subject was potentially libellous.
What is the weirdest/strangest newspaper you ever publicised? What the biggest, smallest, most successful one?
We print lots of really unusual newspapers! This week we have one about potatoes and another one about peas. We've printed newspapers for every life stage from births to graduations to funerals – they are all really touching.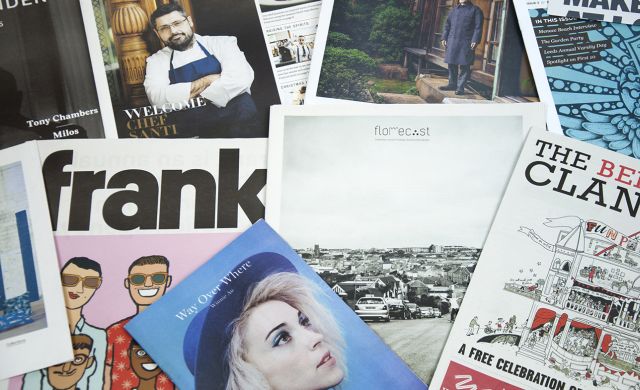 We've also had customers get really creative with modifying their newspapers after they've received them. The Dab Hand was hand stitched to tear into two parts, and the creators of UC Quarterly added their own covers made from discarded test sheets reclaimed from a printer.
We recently printed our biggest order to date – nearly one million menus for YO! Sushi. They wanted the menu to feel like a zine, with illustrations and articles about Tokyo. They're popping up in their restaurants now, and it's been exciting to see the response.
Thank you for your time!
Got you interested? Have a look on Newspaper Club website and see what newspapers and magazines they publish!
Das Gespräch führte Sven Job